First LabelStream 4000 series installed in Italy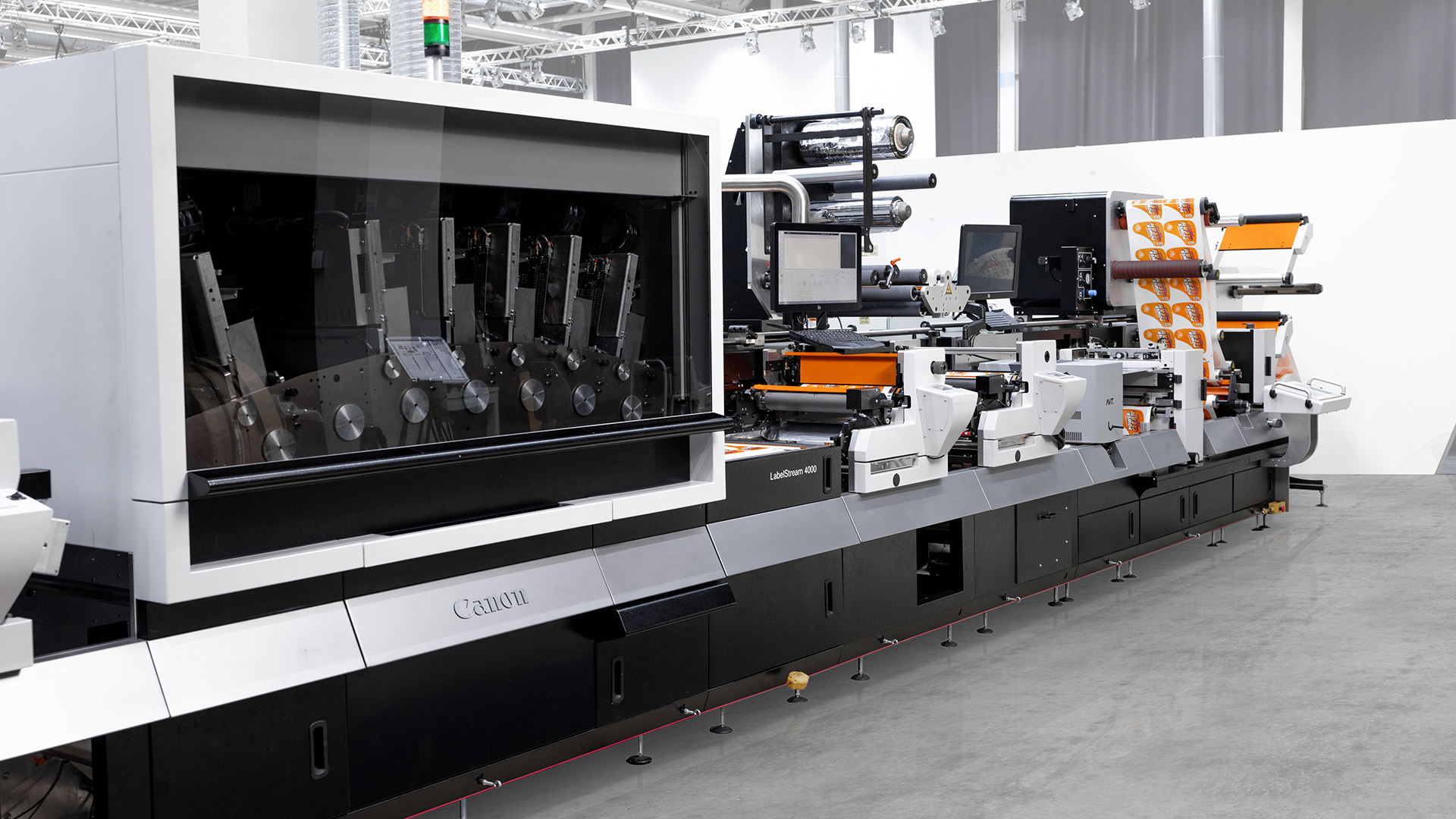 Canon today announces that Etica`s, part of the Samorani Group, has installed the first LabelStream 4000 series digital label press in Italy and the first in that country in a hybrid configuration, which turns the LabelStream into a fully integrated, single-pass label conversion line. The long-established, innovative label converter, based in Forlì, decided to invest in Canon's industrial-scale, UV inkjet label press to broaden its application offering and respond to the ever changing market requirements. The flexibility of the Canon LabelStream 4000 will enable Etica's to meet increasingly tight deadlines and the rise in demand for short runs.
Based on its reliable UV inkjet technology, the Canon LabelStream can achieve an output speed of 1,845 m²/hr at 410 mm print width and 75 m/min. In its hybrid configuration, the new press includes two additional flexo units, cold foiling and automated semi-rotary die cutting, in addition to the 5-colour (CMYK+W) digital print unit. Thanks to the configuration's inline finishing and embellishment capabilities, Etica's can further reduce its turnaround times while delivering exceptional quality output. Maurizio Resca, Sales Manager at Etica's, comments: "One of Etica's strengths has always been the ability to meet short deadlines requested by our clients. Adding the Canon LabelStream in a hybrid configuration to our portfolio will allow us to shorten this lead time further, while covering a wide range of applications."
The LabelStream's ability to achieve a white ink opacity of up to 80% was another decisive factor for Etica's as it will open up new application possibilities. The fact that the Canon LabelStream is the first inkjet press to have been awarded the Fogra Process Standard Digital (PSD) Print Check specification based on the Fogra55 7-colour benchmark gamut and to have obtained its certification for 'PANTONE® Capable' by PANTONE LLC further bolstered their decision.
Resca adds: "Through the extensive testing we carried out with the specialists at Canon before deciding to go ahead with the investment, we confirmed that the print quality perfectly complied with our high standards and we have seen it ever since. Quality is what Etica's guarantees to deliver, and this press will certainly support our mission."
The Canon LabelStream 4000 will complement the converter's existing range of analogue technologies, such as flexo presses, rotary offset, hot stamping, screen printing, and its comprehensive offering of finishing processes.
The Samorani Group was founded at the beginning of the 1990s as a typographic group. Shortly after, Etica's was created with the objective of specialising in the production of self-adhesive labels. The company's ability to deliver outstanding quality and its reliability have led Etica's to establish itself as a trusted resource for a broad range of customers, from companies with large distribution networks to the specific requirements of local manufacturers.
To be able to provide its clients excellent service, investment in leading technology is crucial for the pioneer according to Daniele Samorani, General Manager and founder of the group, who says: "We offer labels that are tailor-made for our clients. The know-how of our team of dedicated experts allows us to satisfy the most complex request. Similarly, Canon has demonstrated its knowledge and expertise in the way they have supported us on this journey so far." Samorani concludes: "Innovation is one of the fundamental values of our group. With the installation of the LabelStream, we are confidently taking another step towards a successful future for both our clients and ourselves."
Walter Vogelsberger, VP and Head of Digital Packaging Print, Canon Production Printing, comments: "We are thrilled to partner with Etica's to expand their business through the newly installed LabelStream 4000 series. We are really proud of this first installation in the Italian market and it is an important step for Canon on our mission to contribute to the growth of the label and packaging segment. Exciting times lie ahead of us and we look forward to working together with such an innovative and visionary company."
Related Posts
04/04/2022
News
Canon Production Printing and Canon Inc. today announce the acquisition of UK-based packaging converting equipment manufacturer Edale, with the aim of strengthening Canon's label and packaging business, and creating opportunities for future developments.
Learn more
09/06/2021
News
Canon Production Printing has signed an agreement with Rodden Graphics to promote and distribute its UV inkjet press, the Canon LabelStream 4000 series, from the beginning of May 2021.
Learn more
https://cpp.canon/app/uploads/2021/12/samorani-group_labelstream4000.jpg
1080
1920
Pim Odekerken
Pim Odekerken
2021-12-16 11:46:31
2021-12-16 11:56:48
First LabelStream 4000 series installed in Italy