Canon Launches ProStream 3000 series, its Next Generation of High-speed, Web-fed Inkjet Printers for the Commercial Print Market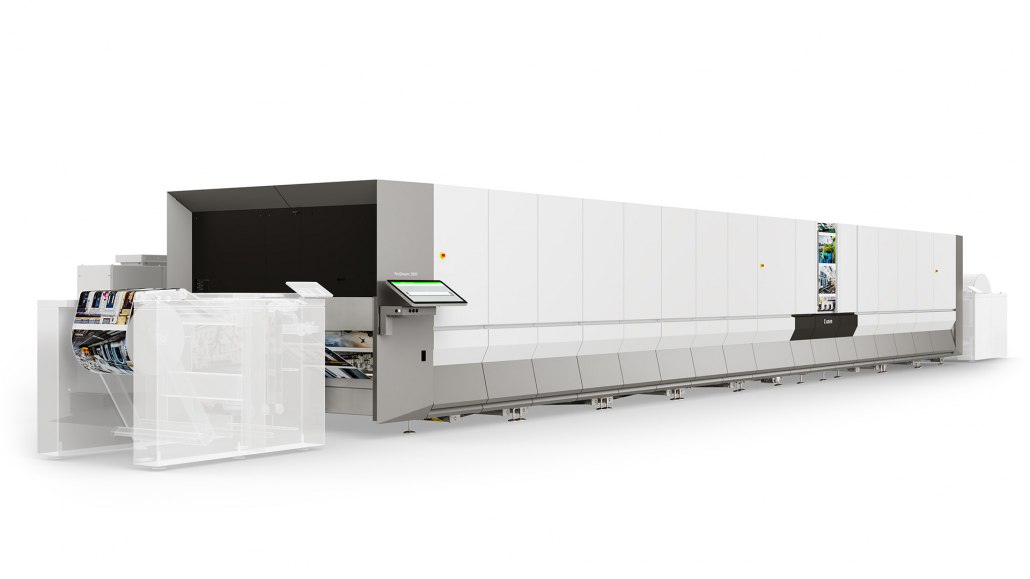 HUNKELER INNOVATIONDAYS, Switzerland, 27TH February 2023 – Canon today announces the launch of the ProStream 3000 series, the next generation of its high-speed, web-fed inkjet presses for commercial print. Built on the established ProStream technology platform, the new ProStream 3000 series delivers consistent offset print quality at industrial speed on a wider selection of substrates including heavyweight paper, enabling ultra-fast digital production of a broader range of commercial print jobs.
This extended media capability makes it even easier for print businesses – including  general commercial and online printers, book producers and photo product specialists – to migrate high-volume, high-value work from offset. With ProStream, customers can now reap the full end-to-end productivity benefits of inkjet production across the majority of applications, from direct mail and books, to postcards, posters and calendars.
Available in two models – the 80m/262ft per minute ProStream 3080 and the 133m/436ft per minute ProStream 3133 – the new press produces ProStream's renowned high print quality on web widths up to 558mm/22in and for page lengths up to 1524mm/60in. The new ProStream series can duplex print up to 1790 four-color A4 impressions per minute or 11300 B2 sheets per hour, equating to 62 million US letter/58 million A4 impressions per month, on a wide range of substrates and weights, including standard offset coated, uncoated and inkjet-optimized papers up to 300gsm, without the need to slow down significantly for heavier media weights.
To deliver offset quality at the highest possible speed across a wider range of substrates, the ProStream 3000 series incorporates an enhanced drying system. This uses air floatation throughout the paper path – including the turning bar – to protect the surface quality of the printed output at all stages. The system's asymmetric design dries all jobs evenly and in a controlled way without coming into contact with the paper, ensuring exceptional quality even on the most scratch-sensitive media.
Consistently high quality with accurate, vibrant color is delivered by native 1200dpi piezo drop-on-demand print heads in combination with proven polymer pigment inks and Smart ColorGrip, a new version of Canon's paper conditioning solution. With Smart ColorGrip, which is also now available as an option for the ProStream 1000 series, the amount of ColorGrip solution can be customized to specific areas of the page to adjust for heavy or light ink coverage, delivering optimal printed results.  Canon's Inline Quality Control, a high-performance camera system, also provides automatic print quality assurance, so operators can spend less time on quality control.
Thanks to the increased efficiency of both its drying system and cooling unit, the new ProStream's energy consumption is lower than the 1000 series for most applications. The new press can be connected to less power supply, which makes the ProStream 3000 series a feasible choice for smaller print businesses via reduced electrical infrastructure. The drying and cooling units and the power supply have also been relocated in the new product's architecture, improving accessibility for ease and speed of servicing.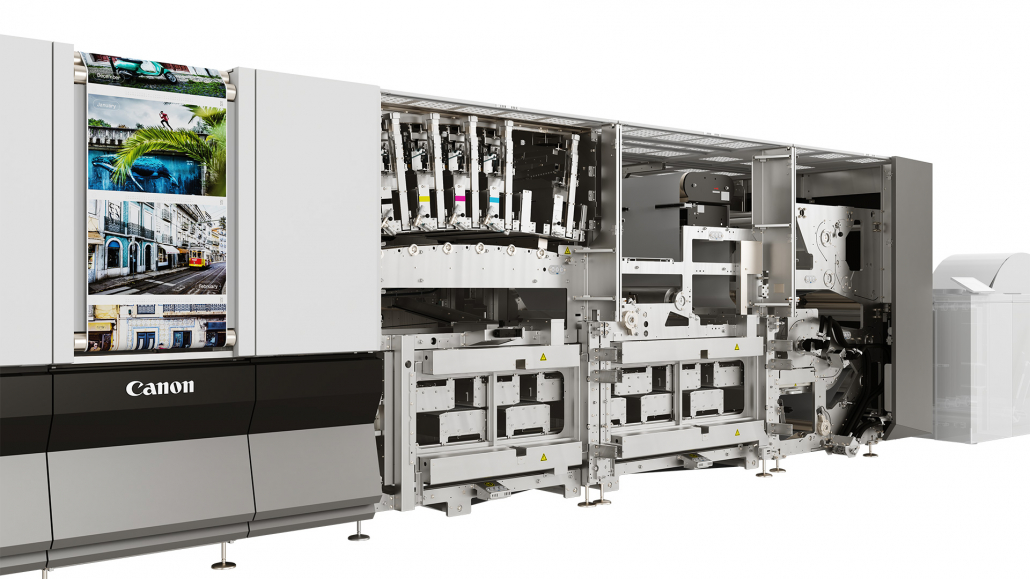 Peter Wolff, Chief Marketing Officer and Senior Vice President, Canon Production Printing, comments, "At Canon, we share our customers' passion for print and we're driven to create technology solutions that accelerate their progress towards their business goals. Customers worldwide have already embraced ProStream's exceptional productivity for everything from high-margin books to premium direct mailing jobs, while benefiting from minimal waste and very high uptime."
"With the launch of the new ProStream 3000 series, we're building on this success to power our customers faster and further, delivering the speed, efficiency and media versatility they need to energize their growth. The scope to print virtually any job at full ProStream speed means that customers can now confidently migrate even more offset work to digital on-demand, reducing turnaround, slashing makeready time and waste, making today's shrinking run lengths more profitable and meeting brand owners' demands for shorter time to market."
The first ProStream 3000 will be installed in the Pixartprinting Group in Italy, joining the company's existing line-up of three ProStream 1800 printers, which have served to bridge the 'margin maximization gap' between the company's existing offset and digital B2 toner technologies, without compromising quality. Chief Manufacturing Officer Alessio Piazzetta, remarks: "Our products are printed using only the most advanced machinery. Since the first installation in 2018, the ProStreams have allowed us to further optimize production by choosing the most cost-effective system based on the variables of the job in question. The main benefits have been higher productivity and efficiency, and the fact that the technology is so user friendly."
Based on the significant commercial impact of the ProStream technology, Pixartprinting has chosen to boost its inkjet firepower further by investing in the next-generation press, aiming to fulfil the company's OEE (overall equipment effectiveness) requirements and raise digital break-even points above those of offset for even more products and papers.
The ProStream 3000 series has its global debut at Hunkeler Innovationdays (27 February – 2nd March 2023, Lucerne, Switzerland), where it is being exhibited in live production workflows of a broad range of commercial print applications. The new press is available immediately, either directly from Canon or from its accredited channel partners, depending on the territory.
To find out more about the Canon ProStream 3000 series, visit the product page.
Related Posts
30/03/2023
News
30th March 2023 – Canon today launches the new Colorado M-series, a modular 1.6m roll-to-roll printer with two speed configurations and now also with Canon UVgel white ink, boosting the printer's unmatched productivity and substantially expanding the range of applications that customers can create.  Retaining Colorado's industrial build quality, the new M-series design is based […]
Learn more
27/02/2023
News
HUNKELER INNOVATIONDAYS, Switzerland, 27TH February 2023 – Since its launch in 2020, the Canon varioPRINT iX-series sheetfed inkjet press has proven its value as a high-quality, highly reliable production system for its users, with 275 global orders and installations and 30% of all varioPRINT iX users worldwide opting for a second press or more. In […]
Learn more
https://cpp.canon/app/uploads/2023/02/prostream-3000-series_angular-frontal_1920x1080.jpg
1080
1920
Pim Odekerken
Pim Odekerken
2023-02-27 09:37:46
2023-02-27 11:26:40
Canon Launches ProStream 3000 series, its Next Generation of High-speed, Web-fed Inkjet Printers for the Commercial Print Market