Getting around in New York, Sydney and Grave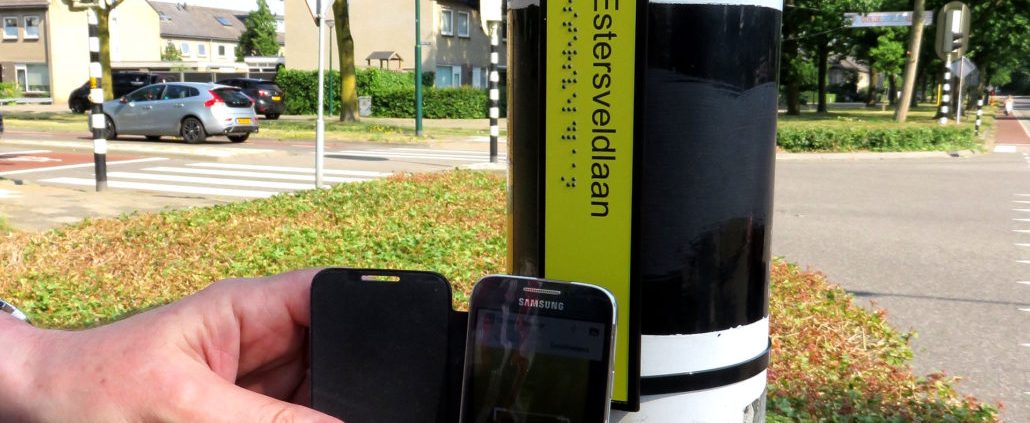 VENLO, 25 September 2017
Tactile street signage is bringing a new dimension to finding your way around the picturesque Dutch town of Grave.
Thanks to a new collaboration between the municipality, Dedicon and Océ-Technologies B.V., visually impaired residents and visitors to Grave, in the Dutch province of North Brabant, can now walk around the town center with ease. At the same time, QR codes are giving access to additional interesting and useful information as they go. But these are no ordinary QR codes. Stephan Koopman, Product Line Manager Elevated Printing at Océ explains. "The tactile street signage at strategic points around the town includes the street name in braille and an innovative raised QR code, printed using Océ elevated printing technology."
New York, Sydney… Grave
Inspired by tactile street signage in Australia and America, Computer Science student, Davy Kager wanted to go one step further in his hometown. "The elevated QR codes give access to further details about your location and also the buildings and sights around you," Kager explains. "And, of course, they could be also used for tourist information, to highlight landmarks. Or even by shops, restaurants and other locations around the town."
Global pioneers
Since the pilot of its pioneering elevated printing technology in 2013, Océ has been leading the way in this innovative and creative field. Developed at Océ R&D facilities in Venlo, this new application is the latest in a series of solutions aimed at opening up new world for the blind and visually impaired. Koopman: "Océ elevated printing technology is able to produce tactile information that can't be captured by braille alone. This includes drawings in biology books, maps, mathematical graphs and even art masterpieces."
Art: Please touch!
One of the first uses of Océ elevated printing technology was to give access to art to the blind and visually impaired. The results have also proved a real hit among other groups, not least children, who are now encouraged to touch iconic art masterpieces for the first time. Océ prints layer after layer with micrometer precision, to create elevation, including the cracks that have formed in the masterpiece over the years.
Redefining the future
"The future of printing is being redefined as we speak," according to Koopman. "Elevated printing is just one of the ways in which Océ is driving innovation." One thing is for sure, towns in the Netherlands will become more accessible to the visually impaired – and more interesting for sighted people to visit, thanks to the Océ printing technology and Davy Kager's internationally inspired idea.
Related Posts
15/03/2023
News
Read more about the release of a series of eight limited edition monoprints of his Salvador Dali painting, created using Canon's elevated printing technology.
Learn more
28/05/2018
News
Dutch prime minister Mark Rutte, while on a trade mission to India, offered an Océ reproduction of the famous Dutch painting Girl with a Pearl Earring by Johannes Vermeer to his Indian counterpart Narendra Modi.
Learn more
https://cpp.canon/app/uploads/2017/09/grave-1030x579.jpg
579
1030
Michel van der Wal
Michel van der Wal
2017-09-26 08:53:41
2017-10-17 10:11:02
Getting around in New York, Sydney and Grave