Arius and STALE AMSTERDAM launch a series of twelve original monoprints using 3D scanning and Canon's elevated printing technology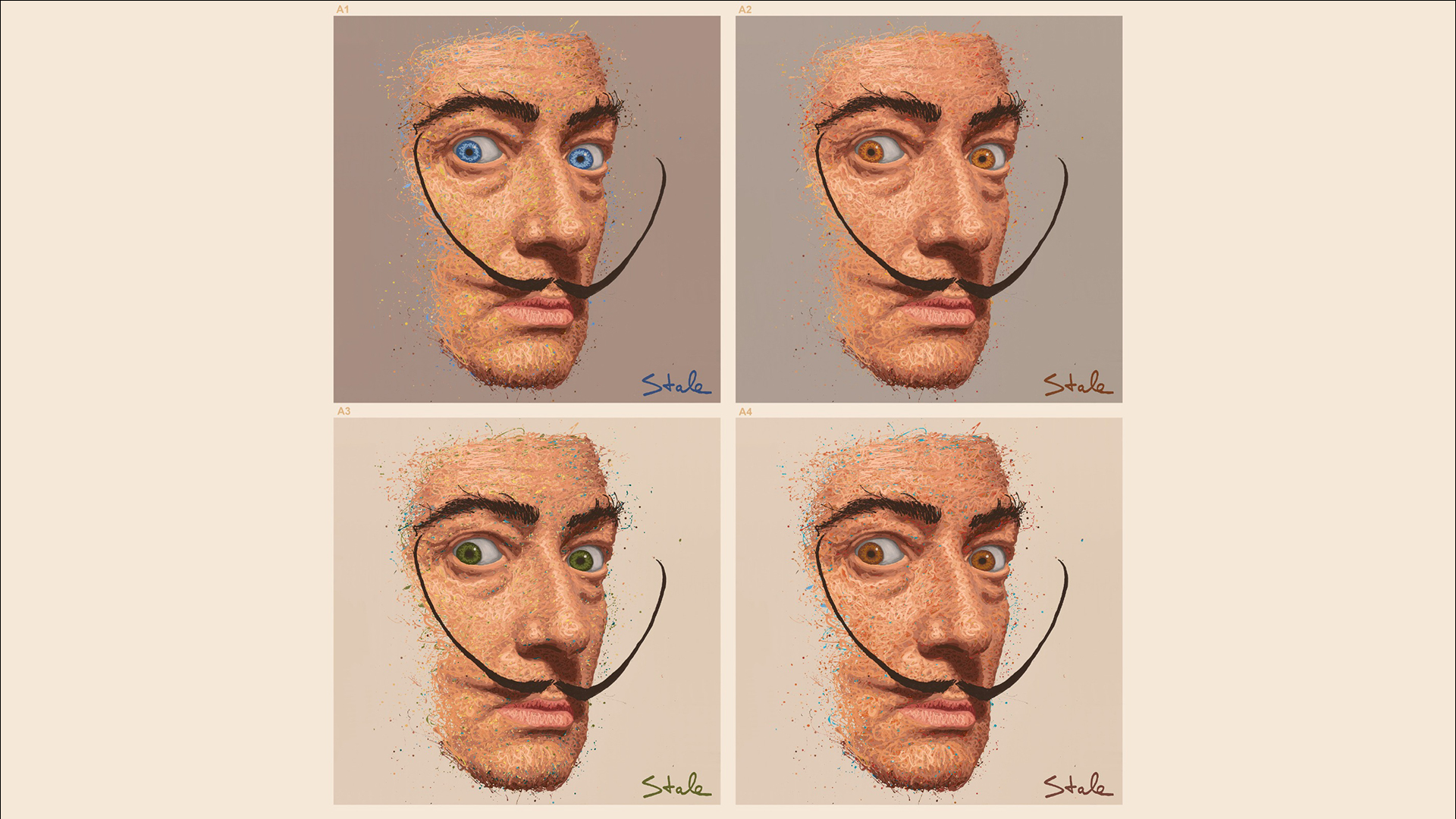 Alta™, the creative studio of Arius technology and STALE AMSTERDAM has released a series of eight limited edition monoprints of his Salvador Dali painting, created using Arius' scanning technology and Canon's elevated printing technology.
STALE AMSTERDAM's original Dali artwork was created using his unique dripping technique and consists of more than 40 layers, using 4 litres of acrylic paint. It was scanned using Arius' ultra-high-resolution 3D colour laser data capture. The scan created an Art Digital Master File (ADMF™) which was then used to digitally manipulate the original artwork and create 12 original editions. Finally, the artwork was printed using the Elegraph™ printing process which is an elevated printing technology developed by Canon.
The first 2 of 3 sets of 4, Salvador Dali monoprints (archival ink on aluminium panel, 80cm x 80cm) will be available in the first drop each with unique colourways, differentiated by the background, eyes and several layers of all-over accents. This will be followed by a future drop of the 3rd set of 4.
Roland dela Cuesta: VP of Engineering & Image Production at Arius remarks: "This project with STALE AMSTERDAM allows us to demonstrate that the technology isn't just a scanning technology for traditional means. It is actually a new creative medium that can be exploited by artists".  Arius' innovative application of elevated printing technology (Elegraph™) introduces to a new audience of contemporary artists, including STALE AMSTERDAM, a new medium that they can work with. STALE AMSTERDAM's distinctive technique of constructing multiple layered drips of paint is not only intriguing as an application but is also fantastic to behold. His is the type of contemporary work that our scanner loves."
STALE AMSTERDAM chose to work with Arius after he was introduced to the company by a mutual contact at Canon Production Printing Netherlands. Clemens Weijkamp, Lead Elevated Printing Technology Canon Production Printing says: "I am always very excited to work together with partners, designers and artists. The paintings of STALE AMSTERDAM are colourful and have a lot of relief which makes it a perfect fit for elevated printing. We have worked together with Arius Technology on previous projects and therefore know that the combination of Arius' 3D scanning technology and Canon's elevated printing technology would make it possible to create perfect reproductions of STALE AMSTERDAM's paintings."
Clemens Weijkamp continues: "To make this type of print we need a colour image and an elevation image. This elevation image contains the height. We have developed a software application that combines the colour- and height image and makes 'slices' of it, with each slice containing colour information and height information. These slices are sent to the printer which will build up the print layer by layer with an Arizona Large Format Graphics printer."
STALE AMSTERDAM says: "I see this scanning and elevated printing technology as the future. With traditional printing, you can't really capture my work in a way that an elevated print can. Working with Canon was amazing. I had the privilege to witness the printing process myself and I was amazed to see what they can do. When I first saw the print, it really blew my mind. It is almost a replica of the original. It is something I have never seen before. Arius' scanning technology creates a likeness that is just incredible. It also allows me to reach a wider audience at a more affordable price, which is important to me."
Roland dela Cuesta says: "the technology opens up new possibilities for artists such as STALE AMSTERDAM, who have complex techniques which means they are limited by the number of works they can create in any given period. It's also an exciting proposition commercially for artists as it creates a new revenue steam by creating work at another price point."
Arius collaborates with artists throughout the creative process, giving them the support and freedom to develop new ideas and the Elegraph™ printing enables them to create new and original textured work without compromising on their work and technique".
Related Posts
28/08/2023
News
Canon wins Seven PRINTING United Alliance Pinnacle Product and Technology Awards for UVgel, Colorado M-Series, Arizona 135GT, Arizona 1300 series and Arizona 2300 series.
Learn more
09/06/2023
News
Canon created the world's first enlarged elevated print of Johannes Vermeer's famous painting "Girl with a Pearl Earring" in collaboration with the Dutch Mauritshuis museum in The Hague.
Learn more
https://cpp.canon/app/uploads/2023/03/Stale-1920x1080px.jpg
1080
1920
Luuk Kempen
Luuk Kempen
2023-03-15 21:28:59
2023-03-16 08:32:09
Arius and STALE AMSTERDAM launch a series of twelve original monoprints using 3D scanning and Canon's elevated printing technology