Global pioneers
Since the pilot of our pioneering elevated printing technology in 2013, Océ has been leading the way in this innovative and creative field. Stephan Koopman, Product Line Manager Elevated Printing, takes us through some of the impressive applications to date.
Tactile signage inspired by New York and Sydney
Inspired by tactile street signage in Australia and America, Computer Science student, Davy Kager wanted to go one step further in his hometown of Grave. He wanted to help visually impaired residents, like himself, get around the historic town more easily.  His employer, Dedicon already had experience working with Océ, making information accessible to blind and visually impaired school children and adults. So, they knew who to contact for help.
Stephan: "Working closely with Davy and his colleagues at Dedicon, we deployed Océ elevated printing technology to produce tactile signage for mounting in prominent places around the town."  The new information points in the historic town of Grave on the river Maas include not only braille street names, but also elevated QR codes. "These codes give access to further details about your location and also the buildings and sights around you," Davy explains. "And, of course, they could also be used for information for tourists, shops and other landmarks as well."
"This is Trompetter street.
A wide road with a central reservation and traffic lights.
Behind you is the impressive new Grave townhall."
Accessible art, and commercial opportunities
Working closely with leading museums and galleries across the globe, Océ has been able to scan art masterpieces and then reproduce them in every detail, using Océ elevated printing technology. "We are able to reproduce individual brush strokes and even the cracks in the varnish," Stephan explains. The modified Océ UV curable printer is used to print layer after layer of ink, to create very high-resolution elevation in full color. The next step under investigation is the printing of gloss. "Our micrometer-precision printing technique is creating astounding results, and so also creating attractive commercial opportunities for galleries, selling reproductions of works from their collections."
Access to Art
One of the first uses of Océ elevated printing technology was to give access to art to the blind and visually impaired. The results have also proved a real hit among other groups, not least children, who are now encouraged to touch iconic art masterpieces for the first time.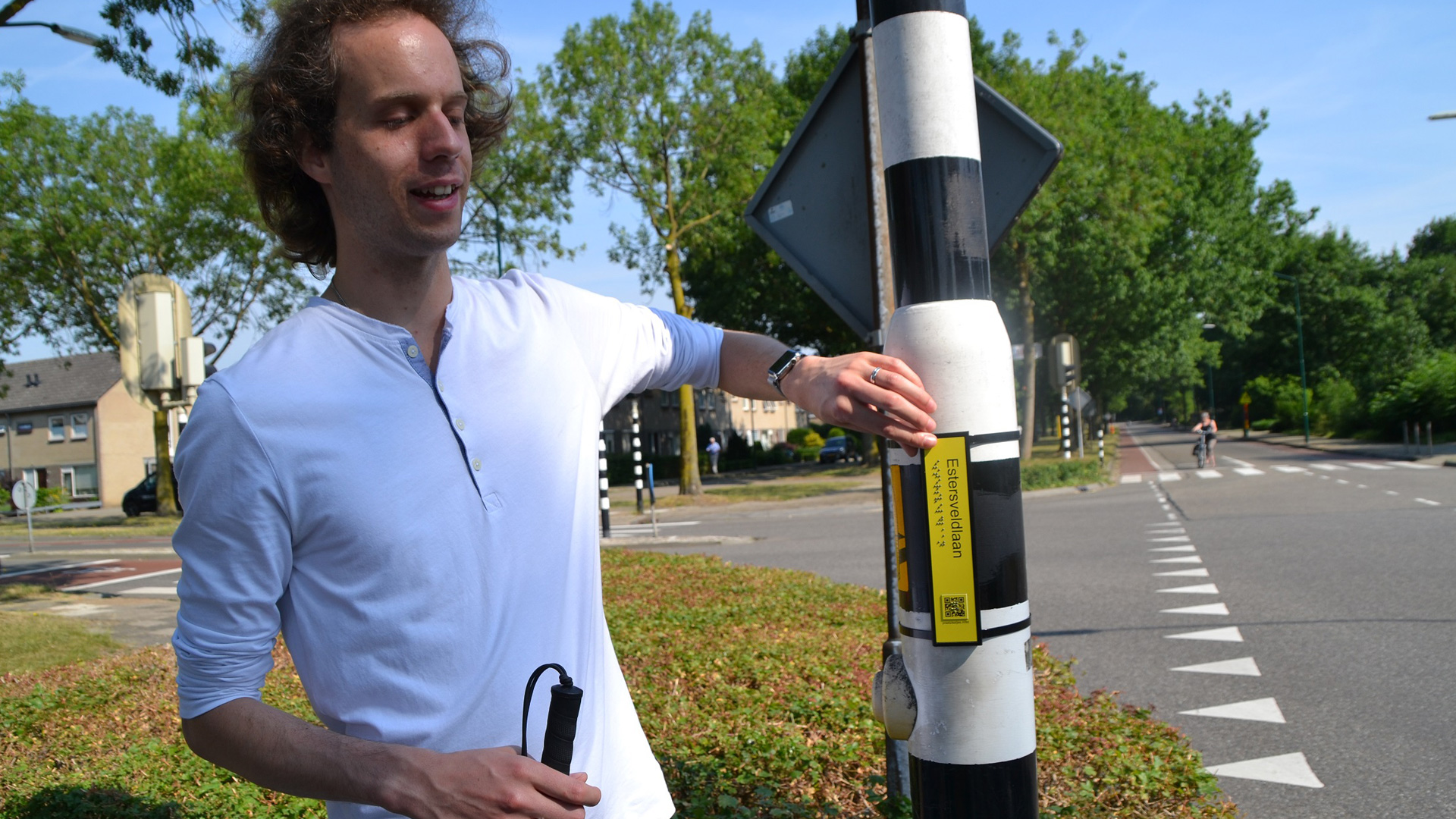 A plethora of possibilities
Océ elevated printing technology offers a plethora of possibilities:
Improving accessibility and information provision for the blind and visually impaired
Art reproductions for sale via e-commerce and galleries
Interior design with unique full-color, high-resolution designs on large panels
Smartphone cases – business cards – gadgets
Redefining the future
The future of printing is being redefined as we speak. Elevated printing technology is just one of the ways in which Océ is driving innovation. One thing is for sure, towns in the Netherlands will become more accessible to the visually impaired – and more interesting for sighted people to visit, thanks to the Océ printing technology and Davy's creative idea.
More information
For more information about Océ elevated printing technology, contact Stephan Koopman, at stephan.koopman@oce.com.
For more information about the Grave project, check out Davy Kager's site: www.praatplaatjes.nl (in Dutch).
Related Posts
01/12/2020
News
Canon is proud to announce the launch of its new online community, graphiPLAZA, for large format graphics experts.
Learn more
25/11/2020
News
Canon has announced that it has installed the LabelStream 4000 series digital label press at the market leading, full-service visual communications agency Oschatz Visuelle Medien.
Learn more
https://cpp.canon/app/uploads/2017/09/davy2.jpg
1080
1920
Michel van der Wal
Michel van der Wal
2017-09-26 09:23:27
2017-10-17 10:10:50
Océ elevated printing opens up new worlds