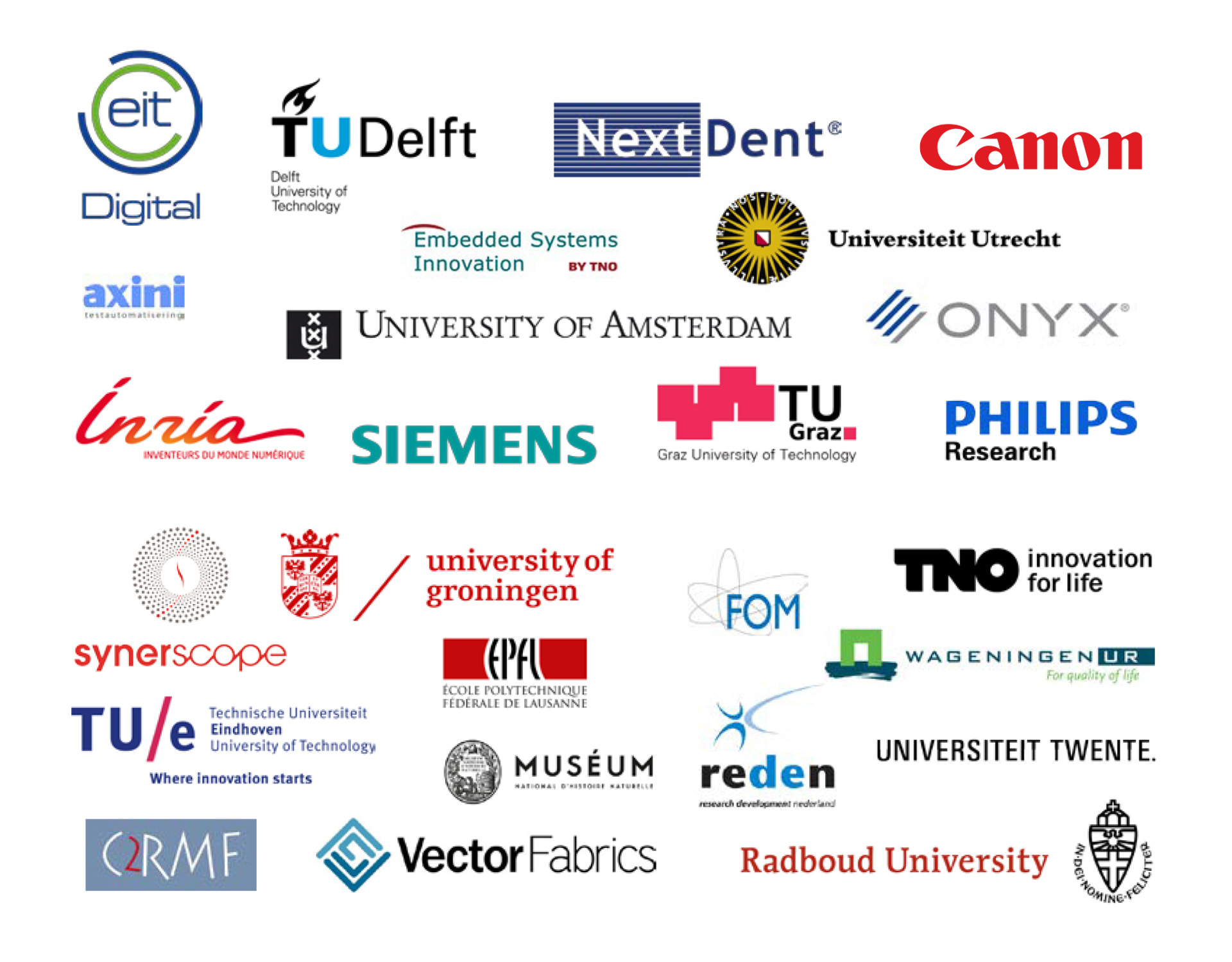 In Océ R&D, there are many initiatives for collaboration: with universities, with research institutes, with other companies and with other parts of the Canon organization, bilateral or in consortia. Collaboration is a form of open innovation and it is important because it is a means to increase our own innovative power. By working together with experts on a variety of subjects, essential knowledge becomes available that we need to develop Océ products and new and existing technologies.
Collaboration with Canon
For color on PRISMAsync, Océ R&D collaborates intensively with Canon Office Imaging Products in Tokyo, to integrate the PRISMAsync controller with a range of Canon's color printers. Engineers and project managers from Venlo and Tokyo talk to each other every day. Several expats from Tokyo are working in Venlo, and the other way around. The color projects with Canon provided ground for establishing PRISMAsync as a second-to-none color controller. This is an important prerequisite for acceptance in the graphic arts market.
Mechatronics Océ and TU/e
The field of mechatronics unites the principles of mechanics, electronics, and computing, to cost-effectively generate high-performance and reliable systems. The Research Cooperation team within Océ R&D is working on 3 mechatronics projects with the Eindhoven University of Technology, the Netherlands. One of these projects also involves 8 high-tech companies from the Eindhoven area. The projects focus on innovative areas such as automated learning from repetitive tasks in printing, smart hybrid variable motion control systems and large-scale thermal and flow model reduction, for real-time control.
Color management
Océ R&D collaborates with several institutions on ways to measure and characterize color. Partners include the French National Museum of Natural History, the French National Center for Scientific Research,  the Center for Research and Restoration of the Museums of France  (based in the world-famous Louvre Museum), the French National Conservatory of Arts and Crafts, and the Swiss Federal Institute of Technology in Lausanne. This research is the next step in color management technology. It will help Océ with ink development, and is of crucial importance in art reproduction and printing on textiles.
Fieldlabs
The Fieldlabs originate from the Dutch government's "top sector" policy. Fieldlabs are practical environments, in which companies and knowledge institutions develop, test and implement targeted Smart Industry solutions. They also offer an environment in which people learn to apply these solutions. Some of the showcases Océ is working on are multimaterial 3D printing, printing of ceramics and printing of dental prosthetics. In the case of dental prosthetics, Océ ensures the right natural color of the prosthetics is obtained.
Onyx Graphics
Onyx Graphics is part of the Canon Group and an important partner for Océ. The company provides RIP and workflow software and is recommended for all Océ large format printers for a wide range of applications. There are close cooperation ties between Océ and Onyx Graphics: Bert van Agen, Senior Vice President (SVP) PPP Business Unit – Business Line 1 at Océ is the Chairman of the Onyx Graphics Board of Directors, and Hans Geelen, SVP PPP R&D 1 at Océ, is a member of their board.
EIT – Big data
EIT Digital is a leading European digital innovation and entrepreneurial education organization that is driving Europe's digital transformation. It provides grants to companies that are leading digital innovations in Europe. Océ is working with a number of companies and institutions in the multiyear, high-impact OEDIPUS initiative. This big data project is aimed at supporting and facilitating the development of new and powerful digital industry applications. The first applications (production quality monitoring and predictive maintenance) are under development in 2017.
FOM and inkjet technology
In the Dutch Fundamental Fluid Dynamics Challenges in Inkjet Printing program (FIP), Océ is involved in a unique cooperation between the Foundation for Fundamental Research on Matter (FOM), the Eindhoven University of Technology (TU/e) and the University of Twente (UT). The FIP program was started in September 2016 and focuses on the research of complex fluid dynamics phenomena, including the interactions with the printheads and substrates. The 6-year program represents an investment of €6.3 million.
Siemens Schule
In Germany, Océ collaborates with Siemens Professional Education (SPE). Here, apprentices attend special courses related to their studies in which they learn to combine theory and practice. During their apprenticeship, participants spend about 1/3 of their time at SPE, 1/3 at Océ, and 1/3 at university or college. An apprenticeship program can last from 2 1/2 to 4 1/2 years.
Related Posts
24/06/2022
Security
This page lists the status of Canon Production Printing products and services regarding the Spring Security vulnerability.
Learn more
13/06/2022
Security
This page lists the status of Canon Production Printing products regarding the Authorization Bypass Through User-Controlled Key in GitHub repository emickel/go-restful vulnerability.
Learn more
https://cpp.canon/app/uploads/2017/08/Innovationcollaboration.jpg
1500
1920
Michel van der Wal
Michel van der Wal
2017-08-07 13:24:02
2017-10-17 10:11:30
Innovation collaboration