The genius of the great masters at your fingertips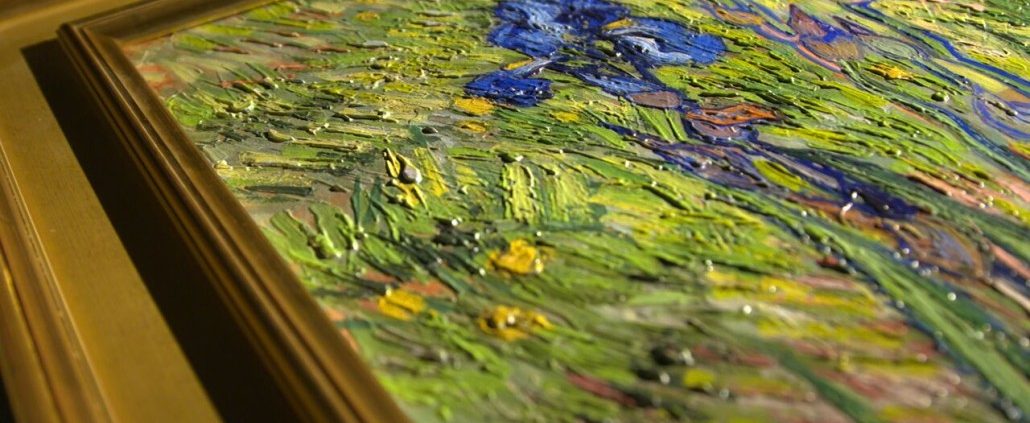 Venlo, 22 November 2016 – Anyone who has ever had to stop himself from reaching out to touch a masterpiece will tell you that the beauty, nuance and vigor of a painting lie not just in the image, but in the texture of the brush strokes on the canvas. As of today, people everywhere can have the full genius and depth of 12 masterpieces from the National Gallery of Canada at their fingertips, with the fine-art reproductions made available by the unique Verus Art® partnership.
Océ – A Canon Company is proud to announce the launch of this new limited-edition collection, produced using the proprietary Océ elevated printing technology. The collection features masterpieces from the National gallery of Canada, which were re-created via Verus Art®, a partnership of Océ, Arius Technology of Vancouver and Larson-Juhl of Atlanta (a Berkshire Hathaway company).
Van Gogh, Monet and others: faithful re-creations with vibrant color, texture and depth
The Océ elevated printing technology is used to recreate the full dimensionality of a fine-art masterpiece by printing multiple layers of ink, up to 5 millimeters thick. The resulting re-creations have the look and feel of real oil paintings, and are barely distinguishable from the originals. The limited-edition collection includes Iris by Vincent van Gogh, Mer Agitée by Claude Monet, Yellow Sunset by Tom Thomson and Squally Weather, Georgian Bay by Frederick Varley.
A new way to experience art, anywhere
The Verus Art partnership is on a mission to free masterpieces from their tightly guarded museum exhibits and put them into homes, boardrooms and classrooms, with royalties and re-creations being provided to the National Gallery of Canada for education and outreach.
"There are [paintings] so precious they never leave storage, let alone are sent to places that don't have climate control, that don't have museums, and where people don't get to see original works of the Old Masters and the modern masters," said Marc Mayer, Director and CEO of the National Gallery of Canada during his remarks at the launch event in Ottawa. "We saw the opportunities for using 3D prints for outreach and education purposes and to allow the National Gallery to have a presence in places where we can't really take original art."
This collection is one of a growing line-up of Océ elevated printing projects to support art-rich culture and education for future generations. A previous collaboration with the Munch Museum in Oslo, Norway, also gave visually impaired people an unprecedented, tactile way to experience art. As Stephan Koopman, project owner at Océ-Technologies BV, explains: "We're delighted that Océ technology is able to change the way we document and reproduce cultural heritage. These prints provide an engaging experience that remains faithful to the artist's original intent and vision, by accurately reproducing the color and relief of the brushstrokes."
Further information
Related Posts
15/03/2023
News
Read more about the release of a series of eight limited edition monoprints of his Salvador Dali painting, created using Canon's elevated printing technology.
Learn more
28/05/2018
News
Dutch prime minister Mark Rutte, while on a trade mission to India, offered an Océ reproduction of the famous Dutch painting Girl with a Pearl Earring by Johannes Vermeer to his Indian counterpart Narendra Modi.
Learn more
https://cpp.canon/app/uploads/2017/09/verus-1030x554.jpg
554
1030
Michel van der Wal
Michel van der Wal
2017-07-26 08:50:10
2019-07-12 19:12:34
The genius of the great masters at your fingertips