Canon wins two prestigious 'Product of the Year' awards
Canon has won two 'Product of the Year' awards in the 'Digital Inks – UV' and 'Automation Equipment (print/post-print)' categories in the annual competition hosted by the PRINTING United Alliance. Selected from over 200 entries across 85 categories, Canon's UVgel 460 inks and the UVgel Wallpaper Factory have both been chosen for their customer benefits and innovation in the large format market.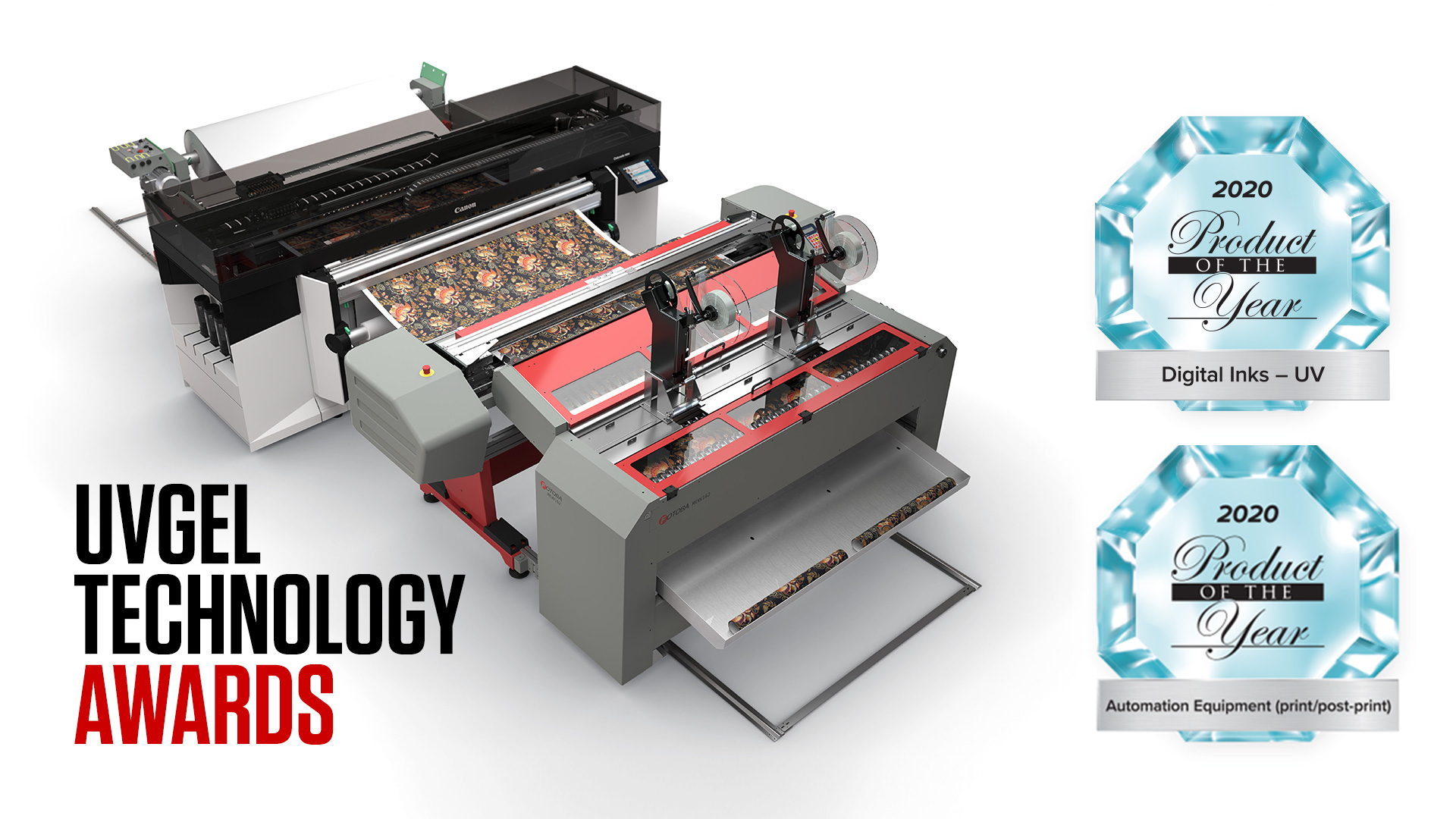 Judged by a panel of industry experts, the PRINTING United Alliance annual Product of the Year competition showcases products that are integral to moving the printing industry forward. Selected for the 'Digital Ink – UV' award, Canon UVgel 460 inks are a core component of the Colorado 1650 roll-to-roll large format printer. Canon UVgel inks utilise a unique, instantaneous 'gelling' action upon contact with the media for exceptional ink drop placement accuracy and consistent colour quality. The UVgel printing process does not rely on evaporation or heat, so prints are instantly ready, even on heat-sensitive media. UVgel inks are extremely resistant and durable, meaning no additional lamination is required, and their flexibility makes them ideal for long lasting applications such as vehicle wraps.
Commenting on the Colorado 1650, Jeffrey Vermaat, Co-owner at Dutch company, De Resolutie, a large wallpaper provider in Europe that sells into 75 countries explains, "The reason we installed the Colorado is simply because it's an industrial printer, offering new combinations of print and media with its unique gel ink. It's a very stable machine, with an ingenious quality control system." The printed output combines a unique velvety matte look and feel, with a high colour gamut. And with the ink's robustness and scratch resistance, the Colorado prints can be finished and processed immediately, ready to ship to off to clients.
Winning the 'Automation Equipment (print/post-print)' category, the UVgel Wallpaper Factory is a fully integrated end-to-end solution enabling the digital mass-production of customised wall décor. Introduced in May 2020, the Wallpaper Factory seamlessly integrates the Colorado 1650 UVgel printer with the media handling and finishing capabilities of several Fotoba modules, including the Fotoba Jumbo Roll Loader, the Fotoba Cutter XLD170 WP and Fotoba Rewinder REW162, to achieve production efficiencies and 24/7 fully automated production. This new solution allows print service providers, print factories and interior décor specialists to diversify their business and enhance their offering with customised wallpaper.
Dirk Brouns, Vice President, Large Format Graphics at Canon Production Printing comments, "We have worked closely with our customers and partners to continuously innovate our large format graphics solutions and it's great to see these solutions being acknowledged by both the wider industry and by our customers. UVgel ink is at the core of our unique technology and is highly beneficial to our customers. With the wallpaper factory, we are able to leverage our Colorado system to create opportunities for this growing and exciting market segment. Last year, the Colorado 1650 printer was awarded for its print quality, versatility and ease of use, and we are delighted to see that this year Canon's UVgel inks and the UVgel Wallpaper Factory have been recognised and awarded."
---
For more information
---
Related Posts
19/10/2022
News
Canon Production Printing announces that 3M has recognized the exceptional quality of the Colorado 1650 and its UVgel 460 ink for approval in their 3M™ MCS™ Warranty program.
Learn more
12/10/2022
News
Canon today announces that PRINTING United Alliance has again recognised the quality of Canon's production printing products and technology with five Pinnacle Product Awards and one Pinnacle InterTech Award.
Learn more
https://cpp.canon/app/uploads/2020/10/sgia-award_1920x1080.jpg
1080
1920
Pascal van Opbergen
Pascal van Opbergen
2020-10-28 11:35:59
2020-10-28 12:55:11
Canon wins two prestigious 'Product of the Year' awards