Canon Extends World-Leading Arizona Flatbed Printer Family and Launches PRISMAelevate XL for Tactile Print Applications
FESPA Global Print Expo, Munich, Germany, 23rd May 2023 – Canon today launches two new models in the Arizona 1300 flatbed printer series, the GTF and XTF, featuring award-winning FLOW technology, an innovative zone-free vacuum system that makes media handling easy. Also launching today is PRISMAelevate XL, an extension of the powerful PRISMA XL Suite, which creates tactile print applications and produces outstanding-quality elevated prints on Arizona printers, helping users print textured effects and raised lettering up to 2mm.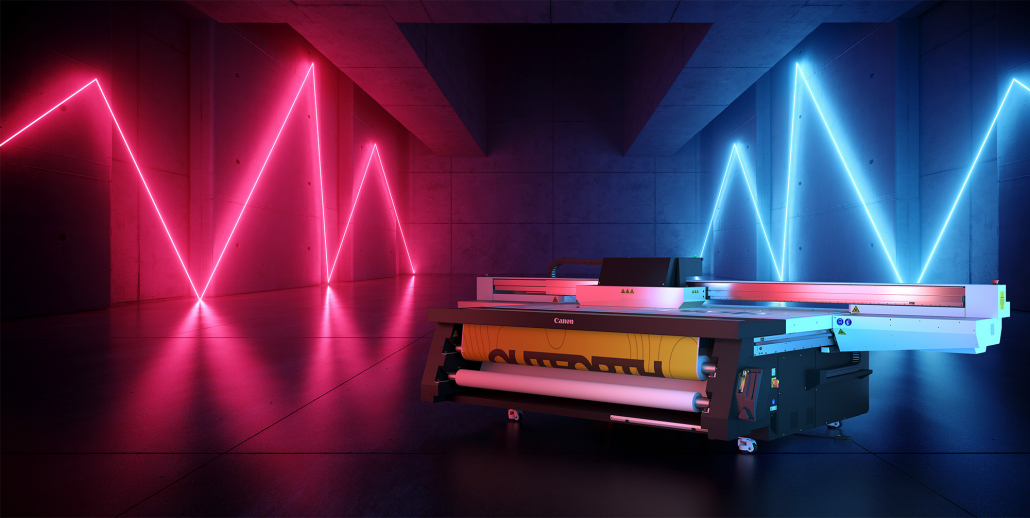 Extending the comprehensive Arizona flatbed printer family, the Arizona 1300 series with FLOW technology serves the growing mid-volume segment, enabling large format graphics printers and other print service providers (PSPs) to offer their customers an extensive range of applications for retail, interior décor, packaging, and industrial markets. Designed for productivity, the new printers provide versatile, accurate and highly efficient multi-board and double-sided printing.
With variable print speeds of up to 52.8 m²/hr (568.3 ft2/hr), the Arizona 1300 series with FLOW technology allows users to print pin-sharp, high-value print applications. Customers will benefit from eye-catching prints on rigid or flexible media of any size up to 1.25 x 2.5 meters (49.2″ x 98.4″) with the Arizona GTF or 2.5 x 3.08 meters (98.4″ x 121.3″) on the Arizona XTF. Thanks to the FLOW technology it is also much quicker to change media and board size, making it the ideal solution for printing many short-run jobs spread throughout the day, allowing users to deliver commercial quality prints with higher levels of productivity. Since there are no vacuum zones, far less masking and taping is required, reducing effort, time and cost.
Other new features include updates to the user interface with Advanced Image Layout Controls, which give operators the ability to make last minute adjustments before printing, including trimming, multi-reference points flexibility, and visualization and modification of the print layer sequence. The new controls allow operators to respond quickly to board material availability, to help use up leftovers and reduce waste, while providing more flexibility and time and cost efficiencies. The Arizona 1300 series with FLOW technology also includes an accounting interface (API), opening up valuable data on ink consumption and production time, for example, for further processing in accounting packages.
New print modes have been added for the Arizona 1300 series with FLOW technology. These include Quality-Smooth, Production-Plus and Quality-Plus (available for 8-channel configurations), and provide exceptional print quality, print after print. The additional 'Plus' modes also allow users to achieve a larger color gamut to create eye-catching applications.
The entire product lifecycle of the Arizona flatbed printer series, from design and manufacturing to use, reuse and recycling, has been developed to be sustainable. Blower boxes for creation of the FLOW and LED curing bring energy efficiencies, the circular design means Arizona devices are repairable and easily disassembled, enabling reuse and recycling of materials and VariaDot technology reduces ink consumption. GREENGUARD Gold certified, the inks are safe for use in public environments and are free from Hazardous Air Pollutants (HAPs) and Volatile Organic Components (VOCs).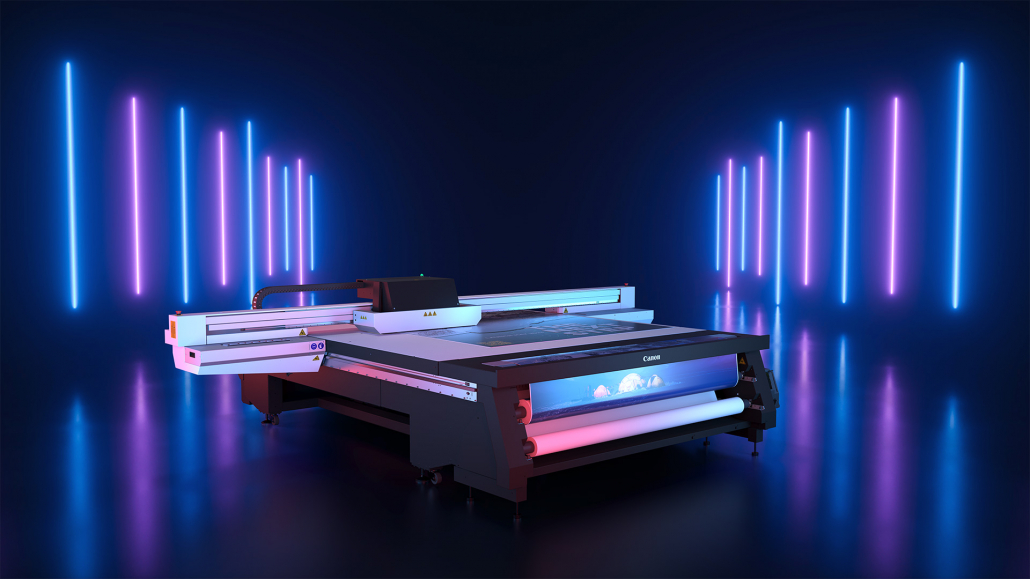 Peter Wolff, Chief Marketing Officer and Senior Vice President Canon Production Printing says: "When we launched the Arizona 250 GT 17 years ago, its world-leading technology revolutionized flatbed printing. To support the growing mid-volume segment of the market and respond to print buyer demand for faster turnarounds, we're now expanding the Arizona 1300 series with FLOW technology. Used in combination with our PRISMA XL Suite of workflow solutions – including the new PRISMAelevate XL, these new models deliver the proven Arizona quality and versatility, but make production quicker and easier than ever, boosting our customers' competitiveness."
The new PRISMAelevate XL, which succeeds Arizona Touchstone, delivers twice the elevation at up to 20% higher speeds, extends the powerful PRISMA XL Suite and creates tactile print applications and elevated prints on the world-leading Arizona 1300 and 2300 flatbed series. PRISMAelevate XL is the latest member of the successful PRISMA XL Suite, enabling customers to design creative, high value applications with textured effects by mimicking textured surfaces and using embossing, metallic accents and raised lettering up to 2mm.
The PRISMA XL Suite is part of Canon's PRISMA workflow solution portfolio and includes PRISMAguide XL, an easy-to-use, innovative job automation software that includes plug-ins for Adobe Photoshop and Illustrator to assist customers in building and previewing designs using pre-defined job recipes for Colorado and Arizona printers.
The PRISMA XL Suite is completed by PRISMAservice – a new cloud-based service platform that provides faster, more efficient and more effective customer support for Arizona printers, with 24/7 access to service information, dashboards and relevant service data to predict, plan and perform relevant service activities to keep printers running. PRISMAservice is available free of charge to Canon Authorized Servicing Partners.
The Arizona 1300 series with FLOW technology are available immediately via accredited partners as well as Canon's direct sales organizations, while PRISMAelevate XL will be available for ordering and delivery from July 2023.
For more information, visit the product page.
Related Posts
28/08/2023
News
Canon wins Seven PRINTING United Alliance Pinnacle Product and Technology Awards for UVgel, Colorado M-Series, Arizona 135GT, Arizona 1300 series and Arizona 2300 series.
Learn more
09/06/2023
News
Canon created the world's first enlarged elevated print of Johannes Vermeer's famous painting "Girl with a Pearl Earring" in collaboration with the Dutch Mauritshuis museum in The Hague.
Learn more
https://cpp.canon/app/uploads/2023/05/Arizona-1300-FLOW-Environment-1.jpg
1080
1920
Pim Odekerken
Pim Odekerken
2023-05-23 09:01:20
2023-05-23 09:01:20
Canon Extends World-Leading Arizona Flatbed Printer Family and Launches PRISMAelevate XL for Tactile Print Applications