More functionality delivers more opportunities with the LabelStream 4000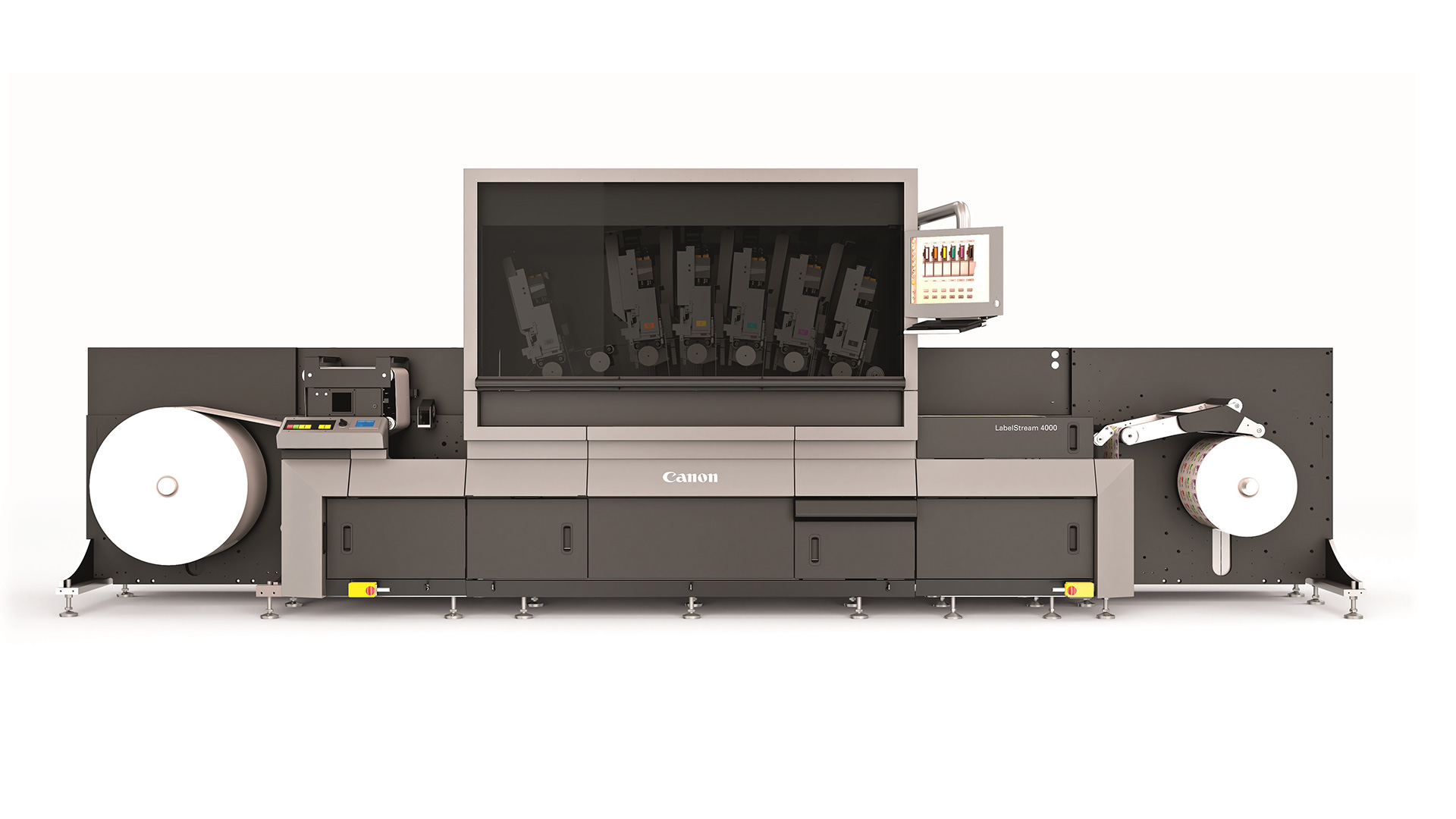 Canon is announcing significant upgrades and optional configurations to its digital label press, the LabelStream 4000 series. Addressing the needs of label converters, new improvements include an optional orange colour channel, a screen-like high-opacity white ink, and enhanced usability for greater production efficiencies.
More colour capability
With the LabelStream's expanded colour capability, you can add optional orange and white ink channels. Match a wider range of brand colours and achieve highest white opacity without compromising on quality or reliability.
The new white ink channel achieves up to 80% opacity at 36 m/min in a single pass. Eliminate lengthy set-up times and expensive screens, as well as increase cost efficiencies. With additional opacities of more than 70% at 50 m/min and more than 65% at 75 m/min, a wide range of performance levels are available.
The new orange colour extension super-sizes the gamut to match additional important brand colours without compromising on print speed. Thanks to high pigment load and high ink laydown capability of the Xaar 2001 printhead technology, the LabelStream inks attain a colour gamut of 96% with the Spot-color swatchbook at a Delta E 2000 smaller than 2, allowing for highest print quality labels and accurately matched colours on standard label stock. The extended gamut range allows converters to achieve coverage of the colour gamut that is comparable to other 7-colour digital label presses available in the market today.
New entry-level configuration
Looking for a digital or entry-level hybrid configuration? The LabelStream 4000 CORE unit is the ideal first step into the world of high performance, UV inkjet printing. Built on a cost-efficient, yet powerful base unit, you have the option to expand the press set-up to meet your needs.
With its reliable UV inkjet technology and a robust web transport system, the press offers print speeds of up to 75m/min and two print width set-ups of 330mm or 410mm, resulting in an industry-leading output speed of 1,845m²/hr, so you can benefit from quicker turnaround times. You can also complement your digital production printer with UV flexo units for spot colours, varnishing and coating.
For more complex applications, the LabelStream 4000 HYBRID configuration offers a custom mix of UV flexo, embellishment and finishing units, turning it into a fully integrated, single-pass label conversion line. This mix of conventional and digital technologies enables a complete inline production of high-quality self-adhesive labels.
The LabelStream provides faster syncing between flexo and digital print units, so you can benefit from reduced operator intervention, increased uptime and high-quality output. The seamless interplay of the two technologies, driven by LabelStream's central control panel, allows for easy recalling of job settings and automated job set-up. The central control panel enables job changes to take effect on-the-fly without halting the press to adjust digital and analogue elements.
More opportunities
Canon's service proposition has grown and evolved, with more than 1,600 high-volume inkjet presses and 8,500 UV-based large format printing systems worldwide, enabling LabelStream customers to benefit from proven, diversified and tailored service models.
With the LabelStream 4000, you can reduce operator intervention, increase uptime and produce high quality output, all with one device. Thanks to the minimal set-up time, the flexibility to mass customise contents and artwork, and the quicker time to market, you can get ahead of the competition and expand your business offering.
Crit Driessen, Vice President and Head of Digital Packaging, Canon Production Printing, comments: "With Canon's continuous commitment to enhance the functionalities of the LabelStream 4000 series, our customers can benefit from innovative capabilities to increase uptime and achieve greater production efficiencies, while relying on the quality of the printer's output to help fuel profits. With this series, label converters can drive growth opportunities with labels of exceptional quality and with customisation abilities to add value to their prints."
You can see the LabelStream 4000 series at the Customer Experience Centre in Poing, Germany. For demo requests or more information about the LabelStream 4000 series, please visit: https://www.canon-europe.com/business-printers-and-faxes/production-printing/labelstream-4000-series/
Related Posts
04/04/2022
News
Canon Production Printing and Canon Inc. today announce the acquisition of UK-based packaging converting equipment manufacturer Edale, with the aim of strengthening Canon's label and packaging business, and creating opportunities for future developments.
Learn more
16/12/2021
News
Canon today announces that Etica`s, part of the Samorani Group, has installed the first LabelStream 4000 series digital label press in Italy and the first in that country in a hybrid configuration, which turns the LabelStream into a fully integrated, single-pass label conversion line.
Learn more
https://cpp.canon/app/uploads/2020/05/Canon-LabelStream-_1920x1080.jpg
1080
1920
Pascal van Opbergen
Pascal van Opbergen
2020-05-14 12:14:59
2020-05-18 13:06:54
More functionality delivers more opportunities with the LabelStream 4000